Pets on the Payroll: Luxury Hotels with Animals-in-Residence
---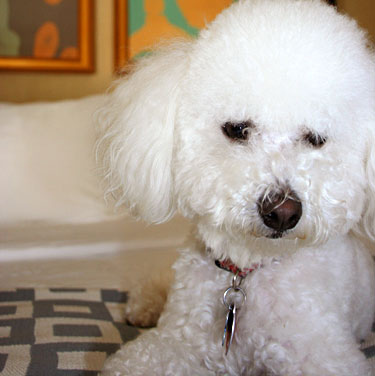 Back in July
we reported on the canine ambassadors
at Fairmont Hotels and Resorts, a beloved service for pet-deprived guests seeking canine companionship. In fact, pet amenities are all the rage these days-- whether it be the
pet turn-down service
at
Jumeirah Essex House
to the Doggie Happy Hour at the
Hotel Monaco Alexandria
.
Conde Nast Traveler recently published a piece
on "Pet-Friendly Hotels with Pets on Staff" (August 2010) with a fun online slide-show illustrating these "pets on the payroll." There's Chance, the Chocolate Labrador at
Montana's Resort at Paws Up
who "gets his snout into a little bit of everything"- including quail hunts. Matilda is the Ragdoll Cat at The Algonquin Hotel in New York whose "annual birthday party is the kitty equivalent of Truman Capote's Black and White Ball, and usually benefits one of Matilda's favorite animal rescue charities." And then there's Thelma & Louise, the two flamingo-like birds who hang out in the lobby at the JW Marriott Desert Springs Resort in California. For the full slide-show,
click here.
Pictured: Charlie, the Monaco Alexandria's Director of Pet Relations.
---