Pet Pampering at Loews Hotels
---
Gary Stram, Director of Sales & Marketing, The Regency, A Loews Hotel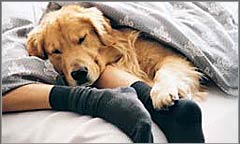 If you were watching the NBC Today Show on Wednesday morning, March 1st, you may have seen Mike Leonard's report on Loews Hotels and pet vacations titled "Pamper your pooch with a trip fit for a king". The packages they focused on - "The Hound of Music", "Su'ruff Camp", and "Outward Hound" - aren't available at all of the Loews Hotels, but the "Loews Loves Pets" program has been in place at each and every Loews Hotel since 2000.
As part of the program at the 18 Loews Hotels, each visiting VIP (Very Important Pet) can travel in first-class comfort with gourmet room service, specialized bedding, a pet amenity, and guest services designed to make pets and their owners feel right at home.
Each pet is welcomed with a personal note from the hotel's general manager which includes a listing of pet services available at the hotel including a map of the area with dog-walking routes highlighted, and information on veterinarians, pet shops, groomers, pet attractions, pet-friendly restaurants, and other resources. In the guestroom is a special ...
... amenity that includes special pet place mats with food and water bowls, toys and treats, and a "Do Not Disturb" sign that let housekeeping know that a pet is in the room. Pet walking and pet sitting services are available through the hotels' concierge desks. The latest addition to the Loews Loves Pets program is the "Puppy Pager" service. For the duration of their stay, pet owners are asked for a cell phone number or provided with a pager that enables the hotel staff to contact them immediately in case of emergency.

Finicky felines and hungry canines can choose from their own special room service menu that was designed to provide proper nutrition to help pets deal with travel stress including jet lag and altitude adjustments. The pet room service varies at each hotel and most include items such as roasted salmon and tuna delight for cats and bow wow burgers, chicken and rice and grilled filet for dogs. All menu items and preparations for the room service menu were developed and approved by a licensed veterinarian.

The newest item on the menu is "HERO STARS," gourmet dog biscuits which benefit the American Kennel Club's "DOGNY" Canine Support and Relief Fund for Police Search and Rescue Dog Teams across the country. A tasty and healthy new addition to the Loews Loves Pets offerings, HERO STARS are available for $10 at Loews Hotels in-room mini bars. Beverages include bottled water and milk. Additionally, selections of dry and canned pet foods are available for in-room delivery.

Loews Hotels also loans its guests pet necessities such as dog and cat beds in different sizes, leashes and collars, and pet videos. Kitty litter boxes and litter, pooper-scoopers, and a selection of pet toys (such as rawhide bones, catnip, and scratch poles) are also available for purchase.

Each hotel has established special cleaning procedures for pet stays including the use of HEPA-filtered vacuums so that all traces of pet allergens are removed in preparation for the next guest. Some of the Loews Hotels charge a one-time pet fee, guests should check with the individual properties to determine their policy.
Charlotte St. Martin, executive vice president for marketing for Loews Hotels says - "Pets provide unconditional love and people love their pets unconditionally. At Loews we've found that taking care of pets is one of the best ways to build customer loyalty and give our guests—and their companions—a good night's sleep."
She's right.
Loews Hotels, Official Site
Loews Hotels, Five Star Alliance
---

Related Hotels