Perks in Tough Times: Snag a Room Upgrade at Starwood's Hawaii Hotels
---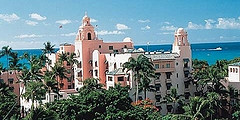 These days it's easy to travel luxuriously without paying top dollar. Hotels are offering all sorts of special (unadvertised) perks; the key is knowing how to nab them.
The Wall Street Journal recently reported
on these "hit-or-miss opportunities"-- often not available until check-in:
Many hotels are adding appeal to their upgrade packages by offering free or discounted perks -- such as an upgrade to an ocean-view room, additional meals or an extra night's stay -- on a "standby" or space-only basis.
Case in point: Some Starwood hotels in Hawaii (see the Royal Hawaiian, pictured at right) are offering 50 percent discounts for room upgrades, while others are adding free nights and free breakfasts to spice up their room-upgrade packages. The WSJ advises using Hilton's Request Upon Arrival tool- to track down room upgrades. And 19 Hyatt Resorts in North America are offering free nights and room upgrades until March 31.
---