Park Hyatt Chicago Gets Engaged with Wine
---
What better way to eat, drink, and be merry than with a wine rendezvous in NoMI's striking Cellar on the Seventh? The
Park Hyatt Chicago
's Tony Chi-designed French restaurant is re-inventing the wine evening with its "Wine Engagement" Series.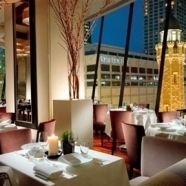 Twelve fortunate oenophiles will join Advanced Sommelier Fernando Beteta to celebrate the pleasures of wine and its synergy with exceptional cuisine. Nomi Executive chef Christophe David will prepare a progressive family-style feast of rustic artisanal fare to accompany the wines being tasted. Cost is $125 per person, exclusive of tax and gratuity.
On Thursday October 16, 2008, the focus will be on Wines from Angelo Gaja, Piedmont, Italy. On November 13, 2008, it will be Wines from Far Niente Winery, Napa Valley and on Thursday, December 11, 2008 it will be Champagne Grand Cuvee.
---