Over-the-Top Building Boom in Las Vegas: The Newest Batch of Hotels
---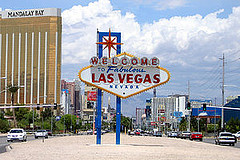 We've been
keeping tabs
on the latest Vegas growth spurt for awhile now, and it's just not slowing down. It seemed that the spotlight had shifted east to the
new gambling mecca of Macau
(which has surpassed Vegas in casino revenues and has opened countless Vegas-style mega-hotels). But things are only just starting to heat up in Sin City. As reported by
USAToday's Hotel HotSheet
, MGM Mirage just announced plans for the $700 million M Resort (MGM Mirage is only financing a paltry $160 million) to open in 2009. The outrageous building boom in Vegas has not yet reached its limit.
To quote the NY Times
:
Americans — and an increasing number of foreigners — can't seem to get enough of Las Vegas. The current construction craze is driven by a 95 percent weekend occupancy rate — and rates that approach 100 percent at the city's newer properties. Last year, even the weekday rate fell just shy of 90 percent, partly because of the city's success in positioning itself as an attractive convention destination.
Here's a taste of what's to come. The Venetian is opening a 3,200 suite tower, which will bring its room count to more than 7,000; $4.4 billion Echelon Place will open on the site of the old Stardust; the mammoth Project CityCenter will cost MGM Mirage $7 billion, the most expensive development in Vegas history.
---