Opening Summer 2009: The New W Hotel Washington D.C.
---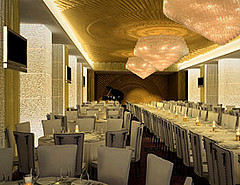 Hotel occupancy in Washington D.C. is hardly plummeting; as hotels in the rest of the nation struggle, the capital is the place to be. Folks are flocking-- not just for the cherry blossoms-- as Washington D.C. takes over New York's role as the country's financial center for awhile.
As The New York Times reports
, the wave of tourists has not diminished since Inauguration, and the city's hotels will be able to weather the storm. Among the new hotel openings for the summer is the
W Hotel at 15th Street N.W. and Pennsylvania Avenue
-- located in the historic Hotel Washington, the oldest hotel in town. Marketing itself as where "the congress of cool is in session," the W will have a signature restaurant, Bliss spa, state-of-the-art fitness center, and a roof terrace with a view of the White House. Owned by the Dubai development company Nakheel, the
317-room hotel
touts its Whatever/Whenever service as "the First Amendment of luxury."
---