Oktoberfest and Cooking Classes at Sea Island Resorts, Georgia
---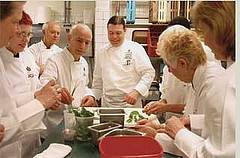 The German-born executive chef of The Lodge at Sea Island will be teaching a delicious array of authentic German specialties, including sauerbraten (a savory, marinated German pot roast), spätzle (handmade German noodles), and schnitzel (crispy pan-fried veal cutlets with aromatic herbs). The next session of the Sea Island Cooking School takes place on September 18 and 19, 2006, starting with the Friday evening private reception and dinner with Chef Johannes Klapdohr in The Lodge Wine Cellar. Also includes Saturday morning cooking school with lunch prepared by the participants, Sunday brunch, and your very own monogrammed chef's jacket. The "Cook Together" package starts at $850 per night, with a two night minimum stay. (If you miss the cooking school, there's always the annual Oktoberfest celebration at Sea Island on October 10, 2006.)
"Add some sizzle with schnitzel," Chef Johannes Klapdohr says. And here's a teaser for your next Fall tailgating picnic, for Southern German Potato Salad:
Ingredients:
2 lb. Potatoes
1 lg. Onion, finely diced
2 c. Chicken stock
6 tbsp. Vinegar (mild vinegar like apple, with 5 percent acidity)
1 tbsp. Mustard
1 tsp. Salt
4 tbsp. Oil
1 tbsp. Parsley, finely chopped
1 tbsp. Chives, finely cut
Pepper and Nutmeg to taste
Preparation:
Boil the potatoes in their jackets and peel while still hot.
Sweat onions with one tablespoon of oil and deglaze with chicken stock. Set aside.
Slice potatoes thinly in large bowl.
Season potatoes with salt, pepper and nutmeg.
Add mustard, vinegar, parsley and chives.
Pour chicken stock over potatoes and add oil.
Mix carefully and let rest for 1 hr.
Serve warm.
Related Articles:
A Recipe for Romance: The Cook Together Package at The Lodge at Sea Island, Georgia
---