Nightlife in New York: The James Hotel Opens Jimmy, the New Rooftop Bar
---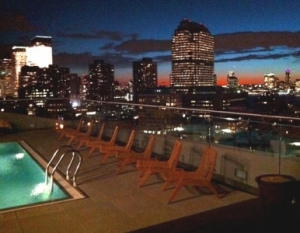 There's a new rooftop cocktail lounge in New York with specialty drinks guaranteed to impress cocktail aficionados. Try delicious concotions like the
Night of the Iguana
(Herradura Silver Tequila, Coconut Puree, Lime Juice, Green Chartreuse & lemon Verbena),
Legal in Vermont
(Knob Creek Bourbon and Organic Vermont Maple Syrup served over a cinnamon ice block),
Chanel N0. 9
(a blend of 9 different floral and botanical liquors delicately blended with Champagne and "strawberry pearls") and the
Mexican Honey Bee
(Milagro Reposado Tequila,Organic Orange Flower Honey a splash of mezcal, lavender bitters & lemon).
Jimmy at The James has the requisite roof and pool, but also a fireplace and cozy armchairs. New York Magazine says, "The James Hotel's newly-unveiled rooftop cocktail lounge will no doubt be filled once folks get wind of the amazing view. Drink prices average out at $16, with standouts including the Legal in Vermont, a bourbon concoction complete with ice made from cinnamon water and bark." Luxury Travel Advisor describes the vibe: "Channeling an English pub with a dash of 1970's decadence, the new bar features herringbone floors, brick glazed tile walls, a leather trimmed wooden bar top, periwinkle plush sofas and of course, a couple roaring fireplaces to keep the chill at bay." This new hot spot is run by David Rabin, Larry Poston, and Johnny Swet of Hotel Griffou.
---