Nicky O Hotel Will Debut (Maybe) In South Beach
---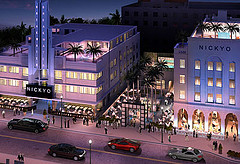 There's been a lot of hype about the launch of Nicky Hilton's first boutique hotel, the Nicky O in South Beach. The New York Times hailed it a Hotel of the Year, listed alongside such exciting properties as The Peninsula Tokyo, Amanresort's newest boutique in New Delhi, and the Brazilian jet-setter's paradise of Warapuru.
Want a big name in hotels, but not a megachain like Hilton? Then check into Nicky O South Beach, a 95-unit condo hotel in Miami from Nicky Hilton, who is branching out beyond her handbag and jewelry businesses. Expected to open next spring, the hotel promises ''fashion, glamour, celebrity and an unparalleled social environment,'' at least according to its Web site, which carries as much information about Ms. Hilton as it does about the hotel.
Nicky's promised a hip, celebrity-packed hot spot. The hotel will feature E! News Tickers in prominent places, photos of all of her buddy celebs, cupcakes at turndown, and designer suites, including a 5,000-square-foot penthouse designed by Roberto Cavalli. But there's a hitch. (Or maybe a few.) The hotel has been dogged with woes aplenty: ongoing delays, a lawsuit, and a premature reputation of notoriety inspired by HotelChatter's savvy sleuthwork. We're yet to see whether this dabbling in the family business will actually pay off.
Related Articles:
USA Today Hotel HotSheet, "What's up with Nicky Hilton's hotel?"
---