New York City: Artistically Inclined at The Gramercy Park
---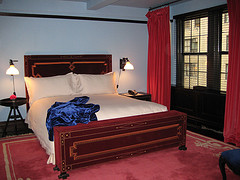 During my
recent stay in New York
, the
Gramercy Park Hotel
on 21st Street and Lexington Avenue, right on Gramercy Park was one of the properties that I got the chance to experience. I stayed on the 12th floor in room 1201, which is a
Deluxe Loft
with a view of the inner courtyard. The colors and design were in keeping with the hotel's claim of featuring a "vivid Renaissance color palette inspired by Raphael". The room featured a large bathroom, seating area, and King size, overstuffed bed. During my stay I ....
- ate appetizers and had drinks at Wakiya Gramercy Park Hotel - and thanks to the recommendation of the bartender - the soup dumplings on the Dim Sum menu were absolutely wonderful,

- had reservations for a girlfriend and I at the Rose Bar (I got in!) on a Saturday night where we sat next to the fire and drank martinis,

- enjoyed a continental breakfast on the Private Roof Club and Garden (where J.Lo had her baby shower the previous evening)

- and exercised in the Aerospace Fitness Centre.
Rates for the Deluxe Loft are usually around $725 (I received a 50% discount). I of course took photos during my stay - and you can see them all HERE or a few individual ones below ...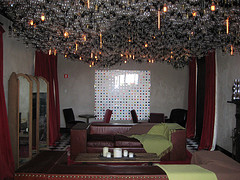 The Roof Club and Garden on the 16th floor uses "artist Julian Schnabel's vivid color palette of dazzling Renaissance colors" where "custom furniture and fittings weave through the space in a breathtaking series of seamless indoor and outdoor areas." The space also features a room which "includes a ceiling light installation that evokes the notion of a chandelier in the movie Blade Runner."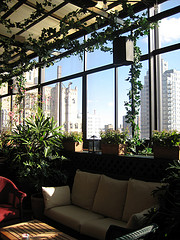 I especially enjoyed the Garden portion of the Rooftop space, with a retractable roof 16 stories above the city. For the continental breakfast, hotel guests were seated in sofas and chairs around coffee tables, and the food spread included fruits, pastries, cereals, yogurts, and breads. The waiters made sure to clear the tables and refilled orange juice and coffee.
View more photos or plan your visit to the Gramercy Park Hotel in New York City >>
---