New Orleans' Hotel Maison de Ville Closes Its Doors
---
As the year draws to a close, so does New Orleans' charming
Hotel Maison de Ville
.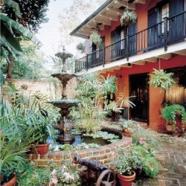 The hotel, called "one of the Quarter's better small hotels," by the
New York Post
, has taken its last reservation as of December 1, 2008.
The hotel's website refers to a "variety of circumstances" that led to the closure, and assures patron that deposits will be refunded in full. Hotel Maison de Ville has also offered to help guests find other accommodations, either by emailing info@hotelmaisondeville.com or calling (504) 561-5858.
---