New Culinary Garden with Honey Beehives at the Fairmont San Francisco
---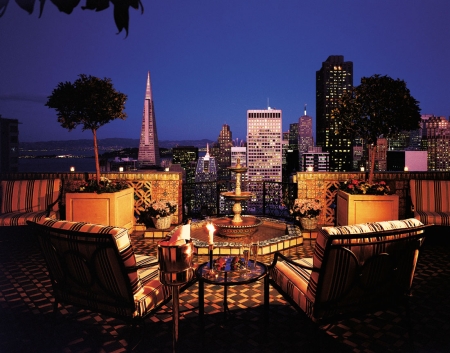 The buzzz
in San Francisco? As part of Fairmont Hotels' commitment to the environment, the
Nob Hill hotel
has planted a new culinary garden with four honey beehives. The idea? To grow herbs and produce for the kitchen, while also cultivating home-harvested honey, thereby supporting the honeybee population which has seen a dangerous decline of 90% since the 1980's.* In partnership with
Marshall's Farm
(known for their award-winning organic honey), Executive Chef JW Foster of the
Fairmont San Francisco
installed the beehives last week, each containing 20,000 bees.
When the beehives mature, they will each contain 50,000 bees
, producing a total of 250 pounds of honey which will be served in the hotel's dining outlets (which emphasize local, organic cuisine). Think soups, salads, pastries, ice cream, and as an accompaniment to the hotel's tea service.
*To quote the hotel's press release: "The United States Department of Agriculture believes a virus is responsible for the collapse of honey bee colonies. This situation is often called "CCD" or Colony Collapse Disorder. Without honey bees, pollination is not possible. The decrease of the honey bee population is extremely significant since one out of three mouthfuls in the diet is affected by the honey bee population."
Related Articles: The Days are Numbered for the Tonga Room at the Fairmont San Francisco
---