My View: The Lorien Hotel and Spa in Old Town Alexandria
---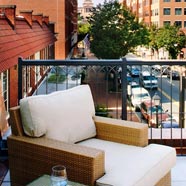 I visit a lot of hotels. Sometimes I do it because, well, above all else, it's my job. Most of the time these hotels don't know I'm coming, but from time to time I actually get invited and show up for a visit. This was the case recently at the brand-spanking-new
Lorien Hotel and Spa
in Old Town Alexandria, Virginia, the newest from the Kimpton Hotel brand, which opened up in February. I tell you what folks, and this isn't the free beer talking, but this is a hotel to savor.
First off, a small disclaimer: While I feigned ignorance, I had already scoped this hotel out before the visit, especially the decadent culinary offerings, all put together by one of my favorite chefs, Robert Wiedemaier. The Belgian and French offerings at Brabo, Brabo Tasting Room, and The Butcher's Block market had already received my emphatic, and all too valuable, seal of approval.
Why you ask? Because the Lorien screams quality, from its relaxing spa, to its ultra modern decor, and even with the common areas that include an outdoor fire where you can warm your outside while sipping a drink to warm your insides. And the rooms? If you like comfort, they're great, but that goes without saying at a Kimpton hotel. The unique part of the experience at the Lorien is the built-in business center. Hotel info, internet access, and a host of other features are yours to use in room. If you want to print, print away, the front desk will hold it for you until you're ready to pick it up. The Lorien Hotel and Spa exemplifies comfort and convenience for the business traveler, in a full luxury setting.
And don't forget the food... I'm salivating just thinking about those mussels steamed in white wine!
---