Motels Pump up the Luxe Factor: Motel 6, Red Roof Inn Get Swanky
---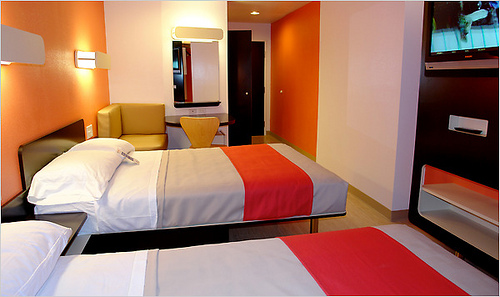 Could we be witnessing a trickle down effect in the hospitality industry? Motel 6, Red Roof Inn, and Super 8 are upping the luxury factor,
reports The New York Times
, boosting their thread counts, bringing cutting-edge technology to their guest quarters, and adding spa-like bathrooms with walk-in showers. The motto for Red Roof Inn? "It's chic to be frugal"... After updating its logo, Holiday Inn has even created a signature fragrance that perfumes all the public areas of the hotel. A stay at one of the renovated properties can thus be a great deal. (Here's a tip from
the NYT:
"Motel 6 conveniently flags revamped hotels on its booking site as "re-modeled" in any given search result list.") Competition from new brands that tout "luxury value" is rubbing off on the
Motel 6's of the world:
The budget hotel segment was due for a design overhaul as the discrepancy between economy hotels still stuck in the floral bedspread mode and more upscale, fashion-forward newcomers like NYLO Hotels and Starwood's Aloft brand grew. And though none of the upgrades are plush by any means, the extent of the renovations and redesigns, which focus on minimalist chic, has been surprising guests and style arbiters alike. In February, for example, Motel 6, which hired the design firm Priestmangoode of London to facilitate its transformation, took Travel & Leisure magazine's 2010 design award for Best Large Hotel for its "smart, hip, and of the moment" Phoenix design, as the chain calls the new look.
---