Mint Juleps and Cherry Blossom Cocktails at Round Robin Bar, Willard InterContinental Washington D.C.
---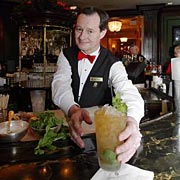 Missed this year's Kentucky Derby? Don't despair. Head to D.C. for a real mint julep at Round Robin Bar, the historic institution in the
Willard InterContinental Hotel
, located in the "shadow of old Rum Row and the E Street corridor." The mahogany bar is straight out of the Old World; it's rumored to be the venerable spot where Henry Clay first introduced Washingtonians to the mint julep. Here, the capital's characters assemble for good conversation, good cheer, and good drinking. The accomplished bartenders can concoct a long list of classic cocktails, including the best mint julep in Washington.
"At Willard's you adopt the universal habit and call for a mint julep, a whiskey skin, a gin cocktail, a brandymash, or a glass of pure old rye... at any hour these drinks are in request."
--N Hawthorne (1853)
Related Articles:
---