Market Pavilion Hotel: The Best of Charleston, South Carolina
---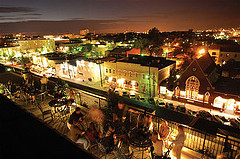 Historic Charleston, South Carolina is consistently ranked as one of the top tourist destinations in the U.S. It's not just the art galleries, lively restaurant scene, and pretty boutiques. The city oozes Southern charm and sophistication, with loads of historic-listed buildings and Antebellum mansions. Plus, the elegant hotels are some of the top in the U.S. Case in point:
The Market Pavilion Hotel
, just picked up by
Daily Candy
on a trip to Charleston. Here's what
D.C. says
about the ville itself:
Drop the hoop skirt and step away from the juleps. With a booming food scene and a subtropical climate that invites four-season travel, Charleston makes a Southern drawl seem cosmopolitan, from the shaggy East Bay to the snooty Battery.
And the gorgeous hotel? Known for its personal butlers and complimentary amenities? To quote Daily Candy:
A View with a Room: You're in the thick of it at the posh Market Pavilion Hotel (225 East Bay St.; 843-723-0500) at the corner of Market and East Bay. Head to the rooftop bar for great views of the water and Old Market.
---