Manhattan's New Park Hyatt Hotel Will Cost $1.8 Million Per Room
---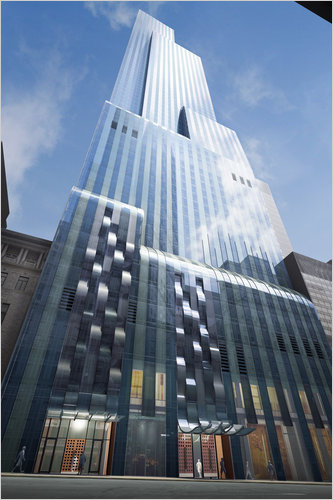 The Manhattan luxury hotel market continues to boom with a new Park Hyatt slated for 2012. And now
Crain's New York Business is reporting that Hyatt is dropping
a record-shattering $1.8 million per room on this new property. The 210 guest rooms will have mind-blowing views over the city; the indoor swimming pool "in a three-story aerie at the top of the building" also promises an awesome panorama.
As we reported earlier this year
, the new Park Hyatt will be housed in the tallest residential building in the city, a new tower designed by French architect Christian de Portzamparc that
The New York Times says
is the "first major construction start in New York since the fall of Lehman Brothers in September 2008." Park Hyatt will also be the city's
first newly built five-star hotel
since the Mandarin Oriental debuted in the Time Warner Center in 2003.
---