Luxury Spa Treatments at Mini Prices
---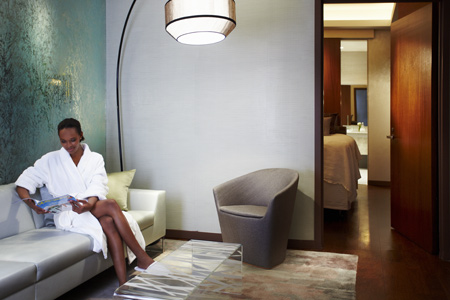 As
we reported back in April
, the latest hotel trend is "spa tapas"-- or mini-sized treatments at affordable prices for those who don't have the time (
nor the cash!
) to spend on a full day luxuriating at the spa.
A recent article in The New York Times blames the troubled economy:
There was a time in the not-so-distant past when every big hotel needed a spa. Leisure travelers demanded it, and business travelers did, too — to reward themselves, their clients or their employees with lavish massage and steam-filled weekends in opulent settings. No more.
Now hotel spas are enticing guests with loyalty programs as well as a menu of shorter, 30-minute treatments:
The spa at Andaz Wall Street in New York offers 15-minute massages and facials. The New York Palace's spa and fitness center offers 25-minute treatments, and the Seagate Spa in Delray Beach, Fla., offers mini treatments for under $65. Express spa treatments are popular with people who live or work near the Peninsula Spa by ESPA, in Manhattan.
And ultimately, things are looking up for luxury spas. The International Spa Association "reported a 58 percent increase in spa visits in the first quarter of 2010, over the same period in 2009."
---