Luxury Eco-Tourism: The Fairmont Green Partnership and World Heritage Alliance
---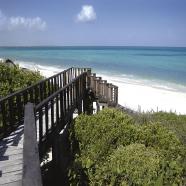 These days (and it's about time), it's become trendy for hotels to go green. But Fairmont's been at it since 1990. With its award-winning Green Partnership program, Fairmont Hotels and Resorts have led the pack in their dedication to protecting the environment and minimizing the impact of hotel operations. Each of Fairmont's luxury hotels focuses on waste management, water and energy conservation, habitat protection, and community outreach. Fairmont is all about developing sustainable practices for the hospitality industry.
In 2005 Fairmont introduced Eco-Innovations, hotel-based environmental initiatives that encourage partnerships, learning, and guest experiences while addressing a universal environmental issue in a way that hits close to home. For example, Fairmont Le Manoir Richelieu-- located within a World Biosphere Reserve-- has created the Adopt-A-Beluga Program, to help the threatened St. Lawrence Estuary beluga population.
Recently, Fairmont created a partnership with the World Heritage Alliance, a joint initiative of the United Nations Foundation and Expedia, to promote conservation, sustainable tourism, and economic development for communities located in and around World Heritage sites. This is really good news for threatened sites like Cambodia's Angkor Wat temples. Leading the new partnership will be the Fairmont Mayakoba, a luxurious, eco-friendly resort located on Mexico's Mayan Riviera, which will work with an award-winning local tourism network from the nearby Sian Ka'an Biosphere Reserve. This reserve comprises 1.3 million acres of tropical ecosystems and is home to 23 different archaeological sites of pre-Columbian Mayan culture. Guests of Fairmont Mayakoba will experience this marvelous World Heritage Site with tours that guarantee minimal environmental impact. Sustainable tourism is the way to ensure that sites are protected for the enjoyment of all travelers now and in the future.
---