Loews Hotels Offers Rebates to Cover New Airline Fees
---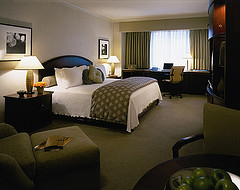 Singing the blues about climbing airfares and gas prices?
Loews Hotels
to the rescue.
After the announcement by American Airlines about new luggage fees, Loews decided to offset the fees with a "baggage buy back rebate." When you check into any of Loews 18 properties in the U.S. and Canada-- including the fabulous
Regency in New York
and
Loews Hotel Vogue
in Montreal-- you can get a hotel credit for any bags you had to check. Just present your airline bag fee receipt at the front desk, and Loews will give you back the $15 per bag. (Loews will offer credit for up to two bags for a max of $30 per stay.)
Available through Labor Day.
---