Loews Annapolis Hotel: Farm-to-Table Dining and a Recipe for Fried Green Tomatoes
---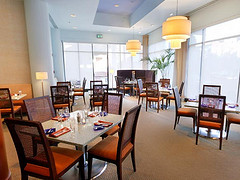 Following the 100-mile diet? So is Breeze Restaurant, the signature resto at
Loews Annapolis Hotel
, showcasing the Chesapeake Bay region's bounty with produce, fish and meat ingredients picked straight from local farms. Chef Allison Trinkle has designed a splendid Summer 2008 menu with fresh Southern flavors. You'll enjoy lots of Chesapeake Bay blue crab, done in myriad different ways: cream of crab soup, fresh lump crab and watercress oil; crab stuffed shrimp wrapped in bacon, cheddar grits and orange barbeque sauce; and Maryland crab cakes, lemon-dill buerre blanc, buttermilk mashed potatoes and green beans with grape tomatoes. Other stand-out dishes include Southern faves like mustard crusted Chesapeake rockfish with tomato-corn relish and fried green tomatoes, and the Southern fried pork chop, with Sawmill gravy and baked applesauce, cheddar grits and spring pea succotash.
Here's a recipe for Fried Green Tomatoes—perfect as a starter or side dish—that's been in the Chef's family for more than 60 years. A Tennessee native, Trinkle adds a little spice to the heirloom recipe with the red pepper aioli:
Fried Green Tomatoes with Red Pepper Aioli
Ingredients:
4 medium, firm green tomatoes
salt and pepper
1/2 cup flour
2 eggs, beaten
1 cup breadcrumbs or cornmeal (or mix half and half)
1/2 bacon grease
Yield: 6 portions
Preparation:
Cut tomatoes into 1/4 inch slices, season with salt and pepper and dust lightly with flour. Dip tomato into beaten eggs, let excess drip off and then coat well with breadcrumbs or cornmeal. Fry, in batches in hot grease (or oil) until golden brown, turning gently (about 3 minutes per side).
Serve immediately, or keep warm at 200 degrees F until ready to serve. Serve with red pepper aioli dipping sauce.
Red Pepper Aioli
Ingredients:
2 egg yolks
1/2 tablespoon garlic, chopped
2 cups red belle peppers, roasted, skin removed and chopped
2 tablespoons Dijon mustard
2/3 cup olive oil
1 lemon
salt and pepper
Tabasco, to taste
Preparation:
In food processor, combine egg yolks, garlic, red peppers and mustard. Mix thoroughly, while still running slowly add the olive oil to form an emulsion (like the consistency of mayonnaise). Season with lemon juice, salt, pepper and a few drops of Tabasco. The mixture should be thick, but not stiff.
---