Las Vegas Luxury: The Priciest, Most Over-the-Top Suites in the World?
---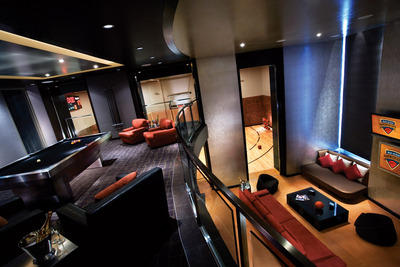 From the Absolut Vodka suite at Caesars Palace to the 20-television suite at The Venetian and the themed fantasy suites at The Palms (basketball, anyone?), Las Vegas offers some of the most over-the-top accommodations in the world... with a price tag to match. Decked out with the finest and craziest amenities, these fantastical suites are certainly attention-grabbing. A recent article in the Associated Press features a round-up of these ultra-luxe digs. Of course there are some affordable ones, too. Try $600 for a 1-bedroom at the MGM Grand, where a 24-hour butler can pack and unpack your suitcase.
Hotel: The Palms.

Rates: $40,000 per night.

Square footage: 10,000.

The lowdown: The most expensive suite on the Strip has its own glass elevator to the second floor, an infinity pool with the Playboy logo on the bottom, of course, that cantilevers off the balcony and, naturally, a rotating bed with mirrors on the ceiling. There's also a massage room, screening room, private gym, an eight-person hot tub and a sauna.

Hotel: Caesars Palace.

Rates: $3,500 per night.

Square footage: 1,800.

The lowdown: Became known as the "Rain Man" suite after the 1988 movie with Tom Cruise and Dustin Hoffman was filmed there. Anyone who's seen the movie or several others filmed at Caesar's will undoubtedly recognize the piano and spectacular view of The Strip from the upper level. The suites were designed to encourage social gatherings, with a couch that seats 12, two master suites and two other connecting bedrooms available. There are 10 TVs in the four-bedroom configuration, including in-mirror screens in each bathroom. Touch screen panels to control all electronics, along with climate and drapes.

Hotel: Bellagio.

Rates: $6,000 per night.

Square footage: 4,000.

The lowdown: With an entryway that crosses a reflecting pool and a 14-foot ceiling, the Chairman Suite exudes elegance. The suite has two master bedrooms, a solarium and whirlpool tubs with views of the city. Each suite has five TVs, two 50-inch plasmas, and remotes control all the electronics, drapes and lighting. It also comes with complimentary limo service from the airport.
---