La Grande Residences for Extended Stays
---
from Courtney W. May and The Sutton Place Hotel, Vancouver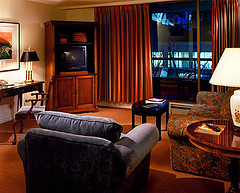 Extended Stay America is not luxury. Your not going to find it at Candelwoods Suites either. And, from experience, I know that those short-term 'Corporate' apartment and condo rentals are way overpriced. Never again will I pay for a 'luxury business apartment' where I have to supply the toilet paper and the carpets are orange. Now I just have to find a reason to go to Vancouver for an extended period of time on the company dime to stay at my new favorite option. Wikipedia suggests that if I want to do business in Vancouver, I should try forest products, mining, and import/export. No thanks.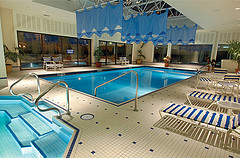 Why La Grande Residence is so great for extended stays:

It's luxury. I'm not kidding - it is 18 stories of fully furnished apartments designed by the people at Sutton Place Vancouver for the discerning traveler. There are 164 terraced residences - 18 small 550 sq. ft one-bedrooms, 116 large 700 sq. ft. one-bedrooms, and 30 800 sq. ft. two-bedrooms. Residences include kitchen facilities, valet parking for that rental car, concierge, business center, and laundry and room service. And instead of those orange carpets, you get traditional European furniture, balcony patio furniture, sun drapes in the living room and black-out drapes in the bedroom. Unlike a corporate apartment or condo (or my house), La Grande Residences offers twice weekly full maid service, daily towel service, grocery shopping service, and all of the connecting Sutton Place Hotel services. Convenient? They are located in the heart of Vancouver's business, theatre and arts districts - within walking distance of almost everything.


Anyone out there willing to fund a trip for me to the Vancouver Olympics in 2010 so I can stay at the La Grande Residences?
The Sutton Place Hotel, Vancouver
The Sutton Place Hotel, Five Star Alliance
---