Hotels Rethink In-Room Work Space for Business Travelers
---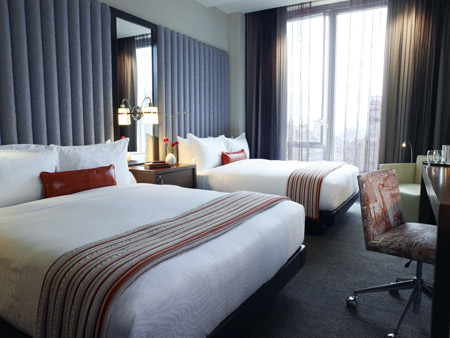 Business travelers rejoice! There's a movement underway to get rid of those inconveniently placed electrical outlets in your hotel rooms, trashing all those tourist pamphlets that crowd the work desk, adding office chairs with wheels and lumbar support, switching to lamps with plugs at the bottom for charging cellphones or laptops.
A recent article in The New York Times describes
how the workspace in hotel rooms is getting a makeover:
The upgrade does not cost a lot of money, analysts said, but goes a long way toward satisfying business travelers, who are increasingly expected to keep up with their workloads while on the road.
The NYT cites Kimpton Hotels as one example:
The company is adding new, roomier desks, with more appropriate lighting for work. The desks have power strips that have widely spaced sockets so a bulky charger does not block the neighboring outlet, according to Niki Leondakis, Kimpton's president and chief operating officer.
Pictured: The new Eventi Hotel in New York, a Kimpton Hotel.
---