Hard Rock Hotel, Las Vegas Gets Luxury Renovation
---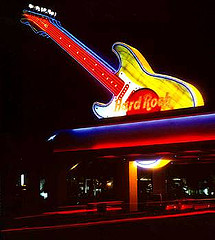 The Vegas building boom is simply not slowing down. The hotels that used to be the center of the action are facing a lot of competition; 40,000 new hotel rooms are being built over the next five years! So hotels like the
Hard Rock Las Vegas Hotel
-- home of the notorious Rehab pool parties on Sunday-- are injecting lots of capital.
Like $750 million worth
, in a massive expansion and renovation that will preserve the hotel's classic party image but lure a more upscale clientele. Purchased by
Morgans Hotel Group
in February, the hip Hard Rock Las Vegas Hotel is going to go even edgier, with the addition of two new towers, spa, celebrity-designed deluxe suites, and European style (a.k.a.
topless
) pool. The most notable addition?
Wasted Space
, the tattoo-parlor-inspired lounge.
---