Happy Thanksgiving (and some Michelin-starred menu ideas)
---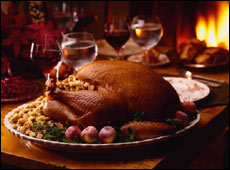 Wishing you and your family a fantastic Thanksgiving from all of us at The Informed Traveler and Five Star Alliance. We'll be back soon with exclusive luxury travel news and special offers. In the meantime, we thought we'd leave you with some food for thought, courtesy of celebrity chef Thomas Keller. (His
French Laundry
restaurant is closed for Thanksgiving, and the other Michelin three-star restaurants* in the U.S.--
Le Bernardin
,
Per Se
,
Jean-Georges
, and
Joel Robuchon
-- have been booked for months.)
Truly mouth-watering Thanksgiving dishes from Thomas Keller (of Per Se and French Laundry):
Sunchoke soup with Virginia ham croquettes
Breast of Four Corners Farm's turkey "cuit sous vide" and roasted leg "en ballotine" with giblet gravy
Green-bean casserole-- oven-baked haricots verts with cream of California cèpe mushrooms and crispy shallots
Garnet sweet-potato mille-feuille with white-truffle royale and shaved truffles from Alba
Waldorf-salad stuffing
Pecan pie with whipped cream
*Note: This is the first year ever that Michelin came out with restaurant and hotel selections for Los Angeles and Las Vegas. The 2008 prize goes to Tokyo for the most Michelin three-star restaurants in one city.
---