Gourmet Eats for the Bicentennial of Mexico's Independence at Grand Velas Riviera Maya
---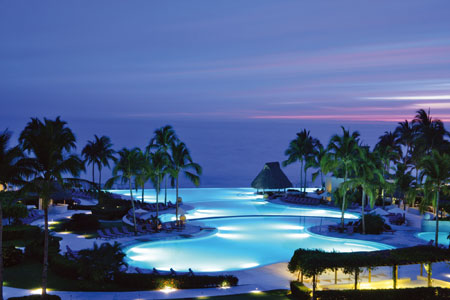 The best way to celebrate the bicentennial of Mexico's Independence? A culinary extravaganza showcasing traditional Mexican dishes! Eat your heart out at
Grand Velas Riviera Maya
-- the all-suites spa resort five minutes from Playa del Carmen that puts a twist (a luxurious one!) on the "all-inclusive" experience. (
Buzz: Grand Velas Riviera Maya was recently named "Best Spa" by Virtuoso within the prestigious 'Best of the Best' Awards for 2010.
) Until October 30, 2010, the ultra-luxe resort invites guests to feast in style with five- or six-course tasting menus or "routes" at each of its five gourmet signature restaurants. The chefs of each restaurant will be re-interpreting traditional Mexican ingredients and cooking methods in their own personal style, fusing menus with diverse international influences. The tasting menus are available to all resort guests at no additional charge as part of the all-inclusive rate. A few examples below:
*Route Hidalgo: The Mexican states Guanajuato, Queretaro, Mexico and Morelia inspired Chef Antonio Cortaza of Sen Lin to create an Asian-Mexican fusion menu with delicacies like lamb ribs bathed in ancho pepper curry, sweet potato ginger puree, and field roasted corn rolls with lemongrass infused white chocolate sauce.

*Route of Patriotism: Independence campaigns waged through the states of Michoacán, Guerrero, Oaxaca, Morelos, Puebla, Veracruz and Chiapas, all of which are known for both unusual and traditional mole dishes. Chef Daniel Garcia of Frida celebrates these states in his singular style with snails in green mole, pork shank and coffee cream filled donuts.

*Route Zapata: From the states of Sonora, Sinaloa, Nayarit, Jalisco, Colima, Aguascalientes and Zacatecas come a wide variety of seafood dishes. Chef Michel Mustiere of Piaf presents a seafood menu of Franco-Mexican fusion. Savor pacific shrimp marinated with lemon juice and serrano peppers, served on a bed of creamed cucumber and black mole soufflé with Grand Marnier.
---