Go Green with the Fairmont Mayakoba: Sustainable Tourism with the Fairmont Green Packages
---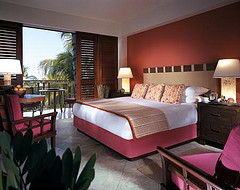 Fairmont Hotels and Resorts makes it easy to go green. With
eco-friendly programs and initiatives
-- like the Adopt-A-Beluga Program-- Fairmont's been making waves in the hotel industry. Indeed, Fairmont has been championing luxury eco-tourism for awhile. When the
Fairmont Mayakoba
opened in early 2006
on the white sand of Mexico's Riviera Maya, it became the cornerstone of a unique eco-friendly resort community, surrounded by unspoiled tropical forest and beautiful waterways. Mayakoba is a luxury destination with golf, tennis, world-class diving and exquisite restaurants-- and it was also created to harmonize with the natural environment.
Fairmont Mayakoba
offers guests a unique and sustainable travel experience while providing all the luxury expected from an AAA five diamond award-winning resort.
In fact, Fairmont has launched a slew of Green Packages recently. Not only do these packages support eco-minded organizations, but they also provide guests with enriching experiences in unforgettable destinations. Look for them at Fairmont Hotels worldwide.
---