Get Insights into Local Culture with the Personalized Peninsula Academy Program
---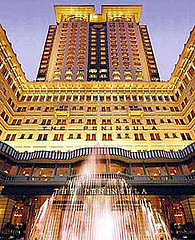 Feng shui, private guided tours, Thai cooking classes, kite flying in Tiananmen Square... These are just a few of the examples of the marvelous offerings available to guests at
Peninsula Hotels
worldwide.
The Peninsula Academy Programs
were created to give guests a personalized introduction to key aspects of local culture, lifestyle, cuisine, arts, and history-- through individualized classes, tours, and activities in each Peninsula location. Programs are available with just a few days notice, so guests can choose activities according to their own interests and travel schedules. It all started with the
Peninsula Hong Kong
, whose Peninsula Academy programs won the Government Award for Tourism Services. The range of activities is staggering: Chinese brush writing, Tai Chi, introduction to Chinese Herbal Medicine- you name it. At the
Peninsula New York
, you can have breakfast at Van Cleef & Arpels, get a private tour of MOMA, and indulge in a Couture Shopping Outing. Younger guests love the Kids Academy;
in Chicago
they can attend the Little Bakers Class or enjoy a Scavenger Hunt while the 'rents take a cooking class at the hotel's renowned restaurant.
In Tokyo
, you can take a Tsukiji Fish Market Tour or take a Tea Flavors Master Class. Not to be outdone, the
Peninsula Bangkok
offers a choice of a la carte programs in the Peninsula Academy: Thai Flower Arranging, Fruit and Veggie Carving, Canal Tour along the Chao Phraya River, and more. And with the Peninsula
Beijing
, you can uncover the secrets of the Chinese capital with tours of the hutongs and the "Wild" Great Wall.
---