Get Dinner with Your Stay at Charleston Place
---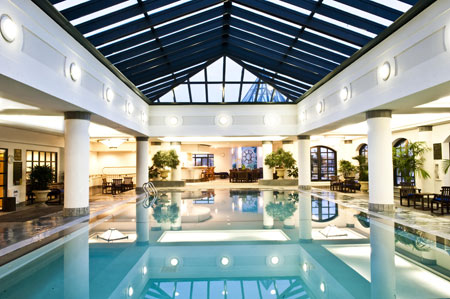 Among The New York Times' picks in the recent article on "
36 Hours in Charleston, South Carolina"?
The "Jazz Age Refuge" called the
Charleston Grill
:
Charleston is not particularly known for its night life — the options sometimes come down to one outlandishly named martini versus another (caramel macchiatotini? Charlestoniantini?). But locals with an evening to kill stop by the lounge of the Charleston Grill, a grand ballroom of a restaurant tucked away in a posh hotel, the Charleston Place. From a glamorous white banquette, you can take in the sophisticated tunes of the Quentin Baxter Ensemble and the very polite antics of practically all of Charleston, from dads and debutantes to Gullah painters. Snack on the truffle Parmesan popcorn ($10) and a kiwi version of the Pimm's cup ($12).
Stay the night at this beautiful hotel on Meeting Street, a member of the Orient-Express Hotels Collection, and sample the cocktails and fare at the Charleston Grill. Save 52% with the "Perfect Choice" package, which includes posh lodgings plus your choice for a dinner for two at Charleston Grill or a spa treatment (for one guest) at the hotel's spa. You'll also get complimentary high speed internet access and a daily newspaper. Rates from $340, subject to availability.
Pssst. Learn about exclusive Five Star Alliance rates at Charleston Place here.
---