Four Seasons Hotel New York: It's Not All About "Sex and the City"
---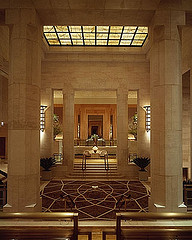 Sick of all the "Sex and the City" hoopla? Not planning on standing in line for the movie?
The Four Seasons Hotel New York
is calling all the anti-Carrie Bradshaws. This stylish Manhattan hotel, the quintessential address between Park and Madison Avenues, has put together a package called "It's not all about Sex and the City." This includes one round of
"anything but cosmos"
in the hotel bar, a
steak dinner
at 57 Restaurant, a
complimentary DVD library that includes anything but "Sex and the City"
(
think "Die Hard" and "Full Metal Jacket"
), and a
"Clog Your Arteries" breakfast.
Available May 30 to Aug. 31, the package costs $2,000 a night for a double-bedded room (double occupancy).
---