Four Seasons Hotel Chicago Announces Kevin Hickey as New Executive Chef
---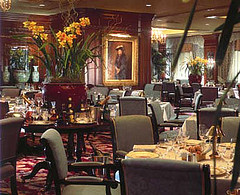 The award-winning hotel that is oft considered the best city hotel in the United States has a dining room to match. Seasons Restaurant is an opulent dining experience, both in its gorgeous seventh-floor setting overlooking Chicago's avenues, and in its creative Franco-American cuisine. The new executive chef brings with him an 11 year career with the company. A Chicago native, Hickey is a frequent shopper of neighborhood ethnic markets, incorporating local, organic products into his distinct menus of American cuisine.
As described by Chicago Magazine:
Seven months ago, four-star executive chef Robert Sulatycky left Seasons for Napa Valley to pursue his dream of becoming a winemaker. Since the Ritz-Carlton and Four Seasons hotels are sister properties, that left Kevin Hickey, the executive chef of the Ritz-Carlton Hotel, responsible for the entire kitchens of both hotels. The guy says he has literally been running across the street in his chef whites as many as four times a day, "writing menus, driving the creative force, being involved with events." How do you do it? Dish asked. "I don't know," Hickey replied, "but I delegated a lot. I have great sous chefs and put a little bit more work on their shoulders." One set of those shoulders belongs to the executive sous chef at the Ritz, Mark Payne, a UK native with credentials that include nine years with the Four Seasons family from properties in Nevis (West Indies) to New York City. Clearly Payne and Hickey each performed at the top of their culinary game because Hans Willimann, general manager of the Four Seasons Hotel Chicago, has announced that as of April 1st, Hickey will become the executive chef of the Four Seasons Hotel and Payne will be promoted to the top toque position at the Ritz-Carlton Hotel. Both chefs expect to have their new dining room menus in place by mid-May.
---

Related Hotels