Four Days Free Night: Luxurious Long Weekend at The Peninsula Beverly Hills
---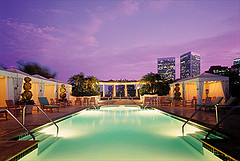 It's not often that we see a deal like this at one of the finest hotels in the world-- the elegant, sophisticated, simply stunning (
excuse our exuberance with the adjectives
) Los Angeles urban resort:
The Peninsula Beverly Hills.
One of the most desirable addresses in So Cal, The Peninsula is all about discretion and exclusivity for its pampered guests. Its AAA five-diamond restaurant,
The Belvedere
, is a favorite for Hollywood power dining, while its Roof Garden and Pool is a glamorous destination in and of itself after a $4 million renovation.
When you reserve two nights from now until June 30, 2009, you'll get the third night free with the "Four Days Free Night" special.
  You'll also get complimentary local calls and Internet access. Priced from $495 in a Superior Room.
---