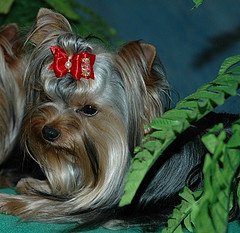 According to the
US Department of Transportation
, there are more than half-million pets which fly each year. But navigating the rules and regs for flying with Fido can be tricky. Which airlines boycott pugs? When are fees required? Which airlines ban pets from the cabin? What if Fido needs his Prozac?
CNN's got the skinny
, with a list of helpful hints about the different airline policies. A sampling: pets must be considered "healthy" (with health certificates sometimes required to prove it), Southwest bans pets altogether while American and Northwest charge $80 for pets to fly in the cabin, and of course,
no snakes are allowed on the plane.
(Tip: "Do not feed or give water to your pet two hours before departure.")
---