Flying High with Eclipse Aviation and the E500 Very Light Jet
---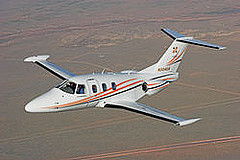 Get this. By the end of 2006, the friendly skies will be transformed by a new type of aircraft: the Very Light Jet. The VLJ (God bless Wikipedia) is "smaller and lighter than conventional business jets and defined by some aviators as jet aircraft with a minimum take-off weight less than 10,000 lbs and approved for single-pilot operation." The media is abuzz: these babies will be cheaper to operate than conventional jets and are highly maneuverable-- shorter runways are no sweat, providing access to airfields that the conventional business jet often can't reach. Talk about making inroads in aviation technology. Eclipse Aviation has launched its Eclipse 500, one of the first of the VLJs to undergo flight testing:
The Eclipse 500 very light jet (VLJ)-- the category of jet we created-- is loaded with capability and functionality, yet is priced less than any other competitive jet and has the lowest operating cost per mile of any jet.

The Eclipse 500 has a maximum cruise speed of 375 knots, it can carry up to six occupants, and has a generous range of 1,280 nautical miles. A 41,000-foot ceiling avoids most severe weather, and this extraordinary jet gives you access to more than 10,000 airports in the U.S. So the question is never, "Where can't you go?" but rather, "Where do you want to go?"
Talk about luxury for less. With the new VLJ, Jane and Joe can fly privately at competitive, economic prices.
---

Related Hotels