Feinstein's at Loews Regency New York: Fall Performances at Manhattan's Great Supper Club
---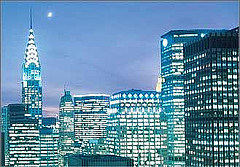 The
Loews Regency Hotel
provides indulgent amenities and exceptional service in the heart of Manhattan. Certainly one of the best things about this refined Park Avenue address is Feinstein's, the quintessential "nightclub of New York."
New York Magazin
e has named it to the "Best of New York," the
New York Post
has called it "an invaluable New York institution," and to quote Michael Feinstein: "Feinstein's at Loews Regency is the perfect place to hear the greatest and most exciting interpreters of American popular song. I'm proud to call it my home!" Nothing beats the total experience of an evening at Feinstein's- from the performance to the food to the ambiance to the service. You can sample the flavor of New York itself right inside the
Loews Regency
.
After the summer closure, Feinstein's will reopen on September 2, 2008.
Here's the schedule of upcoming shows:
Michael Feinstein: September 2-September 6
Ashford & Simpson: September 9- September 20
Nikki Blonsky: September 23- October 4
Check the website for Sunday and Monday night shows.
---