Even Philly Hotels Are in on the Inauguration Madness: Westin Philadelphia Offers Special Inauguration Package
---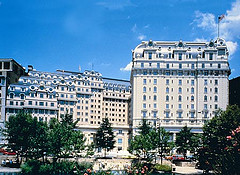 We
aren't alone
in
tracking the inflated hotel prices
for Inauguration Weekend 2009.
As the Washington Post reports
, you "Can't Put a Price on History"-- because "preparing for inaugural events is no time for frugality." Room rates continue to skyrocket, and believe it or not, Washington D.C. area hotels are selling out. So what's a D.C. visitor supposed to do? Why, book a room in Philadelphia! That's the thinking behind the
Westin Philadephia's
Inauguration 2009 package, where they encourage hotel guests to hop on a three-hour train to attend the inaugural festivities in the nation's capital.
---