Eat, Pray, Love All in One Place at Miraval Resort, Tucson
---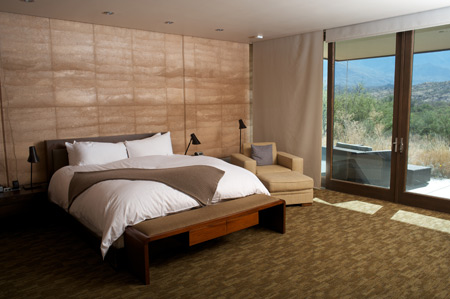 We've been
keeping tabs
on the "Eat, Pray, Love" craze as the hotel industry launches special packages to coincide with the release of the film starring Julia Roberts. The most creative? The offer at
Miraval
, the luxury resort in Tucson known for redefining lifestyles with balance and harmony. Instead of traveling to Italy "to explore the art of pleasure," to India for "the art of devotion," and Indonesia, to explore "the art of balancing the two"-- guests can find it all in one place at
Miraval
. Priced from $525 per person, per night, double occupancy, this unique "Eat, Pray, Love" Miraval Experience includes:
  * An experience guide, Miraval tote bag & reusable water canteen upon arrival.

* Luxurious, casita-style accommodations.

* All healthful and flavorful meals, snacks, smoothies and non-alcoholic beverages.

* Full access to Miraval's extensive resort amenities including use of the Spa, fitness center, golf courses and tennis facilities.

* Unlimited participation (if you choose) in a vast array of Clue-InTM self-discovery and growth activities, including all fitness and yoga classes; lectures by Miraval Specialists; the Miraval Equine Experience; Chef cooking demonstrations; outdoor adventure and challenge programs.

* PLUS, the package includes these additional private services:

* Cooking with the Chef: "A Night in Italy" with Executive Chef Chad Leuthje and Executive Sous Chef Justin Cline. Delight in the gourmet cuisine of Miraval as the chefs create an authentic Italian dinner with wine pairings from some of the most surprising Italian vineyards. Be part of the VIP list in this exclusive Cooking with the Chef Miraval private dining series.

* Abhyanga Spa Service: Like being whisked off on an adventure in India, immerse yourself in the warmth of Miraval's signature Abhyanga-inspired ancient healing massage.

* Private Yoga & Meditation Session: Miraval, long known for leading-edge yoga, brings mindfulness back in focus to assist in balance and grounding for package participants with an individual Yoga/Meditation private consultation.
---