Countdown to Earth Hour: Fairmont Royal York Toronto will Dim its Lights
---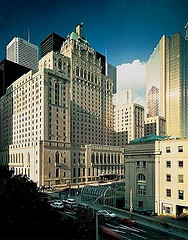 Leave it to the environmentally-friendly Fairmont hotel chain to come up with
big plans for Earth Hour on March 28.
Case in point: the
Fairmont Royal York Hotel
in Toronto which will dim its iconic neon sign as well as many of its 1,365 rooms. Guests will be treated to a romantic candlelight experience, as the pool area will be lit by floating candles, and diners can sup beneath flickering candelabras. As a reminder, guests will get a bookmark-- made of recyclable paper, of course!-- asking them to celebrate Earth Hour by turning off their lights.
The Toronto Star explains how Fairmont has been monitoring its carbon footprint:
Check-in computers run on wind power. Motion detectors have been installed in all 45 meeting rooms in the Royal York to minimize light use, and most of the 34,000 lights in guest rooms have been fitted with energy-efficient bulbs.
Our favorite feature of the hotel? The rooftop garden where veggies are grown for the kitchen and beehives produce gourmet honey.
---