Cocktail with a Purpose at Loews Hotels: Benefit Modest Needs, Loews' Charity of Choice
---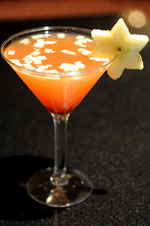 Order up a limited edition cocktail this holiday season at
Loews Hotels
, and you'll support
Modest Needs
, Loews' designated corporate charity, a nonprofit whose programs are funded entirely through the "small change" of individual donors. Sip a "
Cinnamon, Spice and Everything Nice
" at any of Loews' 18 properties in the U.S. and Canada between November 23 and December 31, 2008, and feel good knowing that 100 percent of the proceeds are assisting Modest Needs applicants. Garnished with an apple star, the specialty drink is concocted from apple cider, cinnamon, grenadine, and Woodford Reserve Bourbon.
Here's the scoop on Modest Needs: It leverages the Internet's communication benefits by displaying applicant stories online and allowing donors to read and rate which ones are funded. The organization fields hundreds of requests each month from people who have no way to shoulder the financial burden posed by life's sudden emergencies: the unexpected car repair that keeps a single mother working; the cost of a license renewal that puts a skilled professional back on the job; the unusually large winter heating bill; or the co-payment for a cancer treatment.
---