Classic Dessert Recipes from The Ritz-Carlton
---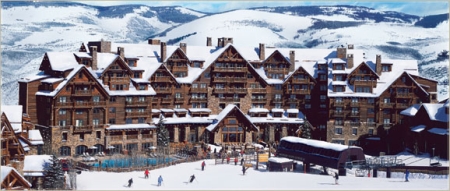 What a treat. Not only does the Ritz-Carlton spoil guests who stay at their hotels, but they also offer us a little indulgence for cozy, stay-in nights at home. The Ritz-Carlton has compiled the recipes for "the most popular and comforting classic desserts" in their portfolio, all prepared by their Pastry Chefs. Sample recipes include New York Cheesecake, Bread & Butter Pudding, Molten Cake, Carrot Cake, and Key Lime Pie. We've copied the cheesecake recipe below, but click here for the full mouth-watering collection. (All recipes are in printable PDF format.)
N.Y. Cheesecake
This recipe celebrates the pure dairy products from New York state in a classic preparation blending cream cheese, heavy cream, eggs and sour cream.
Ingredients
Graham Cracker Crust Ingredients:
* 1 cup Graham Cracker Crumbs
* 1 tablespoon All Purpose Flour
* 1 tablespoon Granulated Sugar
* 1/2 stick Unsalted Butter, melted
Cheesecake Mixture Ingredients:
* 3 1/2 lbs. Cream Cheese, room temperature
* 1 3/4 cups Granulated Sugar
* 7 each Large Eggs, whole
* 1/2 cup + 1 1/2 tablespoon Heavy Cream
* 1 each Vanilla Bean, split and scraped
* 1 tablespoon Vanilla Extract
* 1/2 cup + 1 tablespoon Sour Cream
Cooking Instructions
Graham Cracker Crust Method:
Combine first 3 ingredients in mixer using paddle attachment on lowest speed. Add the butter in a steady stream until mixed evenly.
Cheesecake Mixture Method:
Line inside ring of a 10" springform pan or ring mold with 5" strip of parchment paper. Press graham cracker crust mix into bottom of pan. Mix cream cheese and sugar until smooth. Whisk eggs, heavy cream and vanillas together, then add to cream cheese mix, scraping frequently. Add sour cream and blend well until mix is smooth. Pour cheesecake batter over graham cracker crust and bake at 300°F in water bath for 2 hours or until firm to the touch. Remove from oven, let cool completely, then refrigerate. Once cold, remove ring or springform pan and serve.
---