Cherry Blossom Tea at D.C.'s Willard Hotel for the National Cherry Blossom Festival
---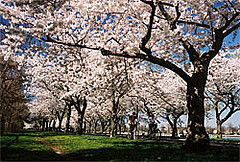 Bloom watch is officially underway in the nation's capital, as city residents and visitors get ready for the
National Cherry Blossom Festival
, the famous harbinger of spring in Washington D.C. A gift from Japan in 1912, the cherry trees around the Tidal Basin explode with color in April... and the world comes to ogle them.
We've been keeping tabs on the fun-filled hotel happenings
for festival enthusiasts, and here's another one to add to the list. Not far from the tree-lined Tidal Basin and the Cherry Blossom Parade route, the
Willard InterContinental
is getting decked out for the season. Guests of the Willard can raise their glasses at the Round Robin Bar with special cocktails: the Cherry Blossom Fizz, Tidal Basin Bracer and the Maraschino Mojito. But what's really grabbed our attention is the Cherry Blossom Tea served in Peacock Alley, beautifully decorated with live cherry blossoms and a display showing historic photos of the first Japanese delegation to America. Offered seven days a week from 2:30 pm to 5:30 pm throughout the festival, the Cherry Blossom Tea features themed nibbles-- like Petite Cherry Custard Tarts, Dried Cherry and Vanilla Scones with Homemade Cherry Marmalade and Devonshire Cream, and Hand Made Cherry Marshmallows-- paired with cherry-infused tea. Live music included. The price is $39 per person, or $49 per person including a glass of Champagne or Specialty Cherry Cocktail. Tea for children ages five through twelve is $25.
---