Charleston's Planters Inn Caters to Expectant Parents
---
Moms and Dads-to-be deserve one last hurrah before the sleepless nights, colic, and endless diaper-changes set in. Charleston's elegant
Planters Inn
is offering new parents-to-be a great opportunity to have one last trip before the baby arrives.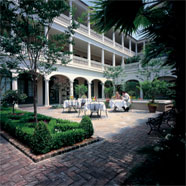 Their "Baby's on the Way" package includes three nights' accommodation in a luxury guest room or suite, as well as Peninsula Grill's gourmet Signature Breakfast for two each morning. Upon arrival, you will find a basket of Charleston specialty gifts and bottled water for your enjoyment, as well as a signature Planters Inn teddy bear. A jar of pickles for the expectant mother and a cigar and cognac for the father-to-be are included as "tongue-in-cheek" gifts. Evening turndown service is enhanced with gourmet ice cream for the expectant mother and a slice of Peninsula Grill's renowned coconut cake for the father.
Future mommies also enjoy a one-hour massage on a specially designed pillow with a deep center cutout, as well as a sugar scrub with lavender and chamomile skin treatment. Meanwhile, future daddies receive a ninety-minute therapeutic massage. Both expectant parents will receive an essential facial to cleanse, massage, and moisturize the skin. The couple will also have their choice of a guided walking tour, motorized tour, or a tour by horse-drawn carriage of the historic district, and a guided tour of the Nathaniel Russell House.
---