Buzzworthy: Iron Horse Hotel Ready to Open in Milwaukee, Wisconsin
---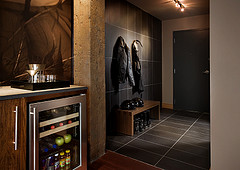 Get ready to go hog wild. Bikers are gearing up for the red-hot opening of the
Iron Horse Hotel
. This is truly a boutique hotel like no other. Touted as the "first luxury hotel in the U.S. with accommodations for business travelers and motorcycle enthusiasts," this new Milwaukee gem will debut across the bridge from the Harley-Davidson Museum in July 2008,
just blocks from the Midwest Airlines Convention Center.
To quote the web site:
A stunning display of architecture in an historic building. An inviting place to gather, work or relax. A clever mix of sexy booths and bar dining, serving comfort food with attitude. And a mingling of business suits and biker leathers for the best people watching. It's all here. This is The Iron Horse Hotel, and you have arrived.
The downtown warehouse-turned-luxury hotel is promising unparalleled amenities (including "never-before-seen rider amenities") in its 102 loft-style guest rooms. Original mixed-media murals will adorn entire walls in the guest rooms. The best part of all? The Iron Horse is shooting for the "style and service found at a NY or LA boutique hotel, delivered with our famous Midwestern friendliness." The hotel will be managed by Miami-based Desires Hotels, which manages other independently-branded modern boutique hotels, including the Sagamore in Miami, the Hotel Mela in New York, and the Water and Beach Club in San Juan.
---