Business Travelers Heart Historic Hotels (like The Peabody Memphis)
---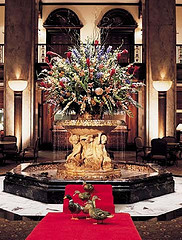 The travel trend these days for business executives?
Checking into historic hotels.
After hefty renovations, these hotels have become destinations in and of themselves. And industry experts cite this category as a better-performing niche. Case in point:
The Peabody in Memphis
, famous for its parade of ducks at 11 a.m. and 5 p.m. through the lobby. After a makeover a few years ago, the hotel sports ultra-luxurious rooms, an indoor pool and athletic club, and wireless access in-room-- not an easy feat for many landmark hotels which require rewiring for that 21st century amenity. What's the draw to the historic hotels like
The Peabody
and
Manhattan's legendary Plaza
? These hotels are distinctive, luxurious, and offer a sense of place, as explained by a spokesperson for the 210-member
Historic Hotels of America.
---