Breakfast On Us at The Bryant Park Hotel
---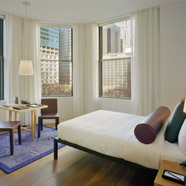 Any breakfast starting with a carafe of Mimosas and the NY Times might actually be the best way to start the day (it would certainly improve mine!). This August,
The Bryant Park Hotel NYC
is providing just that with your accommodations and full American breakfast for 2 in your room, along with a late check out of 2 pm. Deluxe view rooms are available starting at $399 and Bryant Park Suites are available starting at $599 either single or double occupancy for this special package. Awarded with Conde Nest 2004 Gold List, World's Best Places to Stay and citysearch.com "NY Most Romantic Hotel",
The Bryant Park Hotel NYC
is noted as a nexus for young hollywood, fashion culturati and cosmopolitans. Contemporary decor and signature room appointments of authentic Tiberton Rugs, travertine marble bathrooms, state of the art entertainment equipment of flat screen HD TVs, BOSE Wave Radio surround you in style. A fitness center, private dining 24 hours a day, screening room and Koi Restaurant complete the picture.
---