Bourbon Steak at the Four Seasons Hotel: Hot Eats in Washington D.C.
---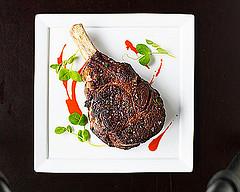 Maybe it's the "pull-apart rolls anointed with melted truffle butter" that has everyone talking about
Michael Mina's new Bourbon Steak
at the
Four Seasons Hotel in Georgetown
.
According to the Washington Post
, the chef "and crew designed the treat with a Cinnabon in mind, but they wanted their creation to be savory and free of cliches such as bacon and cheddar. The chef says he has yet to break the servers' habit of calling them what they're not in front of diners: "sticky buns."
But the restaurant's rich welcome is not limited to its sticky buns. You are also showered with duck-fat fries and dipping sauces-- copious quantities of the good stuff. Plenty of fashionable high-rollers make the pilgrimage to try the signature steaks, poached to mouthwatering tenderness before hitting the wood-burning girl. Red meats are poached in butter, lamb in olive oil and pork in bacon fat to enhance the flavor of the meat. A warning: drinks-- though expertly blended-- will cost you a pretty penny.
---