Book-Cadillac Hotel: Detroit's Glamorous Icon
---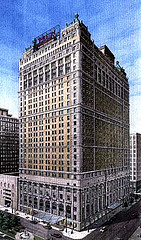 The Book-Cadillac Hotel will soon return to its former splendor. Detroit is going through a renaissance, and the $180 million renovation and reopening of the famous hotel is the ultimate symbol of Detroit's rebirth. Rising from the ashes of decline and neglect, the once-luxurious hotel will-- once again-- dazzle as the
Grande Dame
of the city.
As described in a recent AP article:
The Book-Cadillac Hotel was the epitome of glamour when it opened its doors in 1924. The world's tallest hotel, it boasted an opulent, Italian Renaissance-inspired design. Over the years it hosted presidents, Hollywood stars and infamous gangsters.After standing vacant for more than two decades -- the gilded interior stripped by scavengers, the ballrooms exposed to the elements -- the Book-Cadillac is poised to again become Detroit's ultimate luxury destination.
The hotel will open its door in late 2008 as a new 455-room Westin hotel, with luxurious residential condos crowning the top of the building.
Related Articles:
Once-glamorous Hotel Getting Long-awaited Makeover
Wikipedia, Westin Book-Cadillac Hotel
---