Bites and Bubbles at Caesars Palace: Champagne, Oysters and a Whole Lot More at the Bubble Bar
---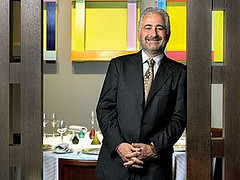 We've been known to swoon over the haute cuisine served at
Restaurant Guy Savoy
at
Caesars Palace
. And the tasty treats at
Payard Patisserie and Bistro
(like the three-course all-chocolate meal?) Bring it on! But there's another reason to love Caesars Palace-- besides the tricked-out pool villas suites,
Garden of the Gods
pools and gardens, and incredible Qua Baths and Spa. At the 20-seat Bubble Bar at
Restaurant Guy Savoy
, you can nibble on the chef's marvelous creations in
tiny bites for a petite price
, and choose from eight champagnes by the glass. Or, if you should choose a bottle, there's a list of over 2,200.
---