Beverly Hilton Welcomes Waldorf Astoria to Beverly Hills
---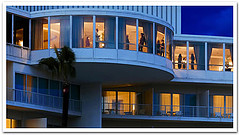 The longtime Beverly Hills landmark is getting a makeover. That's right. The Beverly Hilton, proudly situated on the corner of Wilshire and Santa Monica Boulevards, has announced plans to welcome the first West Coast Waldorf-Astoria hotel as part of its nine-acre hotel property. An extension of Manhattan's legendary art deco hotel, the new hotel will be the first Waldorf-Astoria property under the new brand, and is part of a $500 million investment to revitalize the Beverly Hilton. (After all, even the most legendary and glamorous LA ladies require touch-ups as they age...) The 120 room Waldorf-Astoria will be designed by Gwathmey, Siegal and Associates with contemporary architecture celebrating the city's luxury lifestyle. Together, both hotels will offer spacious gardens, a public art collection, new luxury residences, a destination pool area, and upgraded conference center. They're promising a one-of-a-kind hotel property-- two singular and separate hotel experiences in one location-- that is "unmatched in its diverse offerings, services and amenities for guests and residents of Beverly Hills." Look out, 90210.
Related Articles:
TravelWeekly, "Beverly Hills Hilton to add Waldorf-Astoria hotel to site"
HotelChatter, "Waldorf-Astoria Wants to Live in 90210"
---